10 Essential Winter Car Maintenance Tips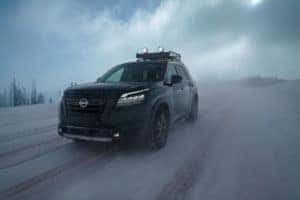 Winter can be harsh, especially to our cars. Freezing temperatures can pose a danger on the road and take a toll on your vehicle. As the holiday season approaches, now is the best time to prepare your car for the colder weather. Winter car maintenance is vital to your vehicle's performance and can help prevent dead batteries, frozen windows, and accidents.  
Keep your vehicle in peak condition this winter by using these 10 essential winter car maintenance tips. 
1. Check tires 
With the winter season typically comes rain and snow. Because of this, it's crucial your vehicle's tires have the tread to navigate icy and wet roads. Be sure to check for any baldness, and replace your tires if they're worn. To help prevent unnecessary wear, make sure to rotate your tires approximately every 7,500 miles.
Additionally, you should be checking your tire pressure regularly. With fluctuating temperatures come changes to your tire pressure. For every 10-degree drop in temperature, your tires lose a pound of pressure.  
Deflated tires can lead to tire damage, poor driving control, and lower gas mileage. Additionally, it can cause premature wear, which leads to less traction on slippery surfaces. Be sure to check your owner's manual for your car's recommended tire pressure, and measure your tires regularly to make sure they match it. 
Also, it's a good idea to keep a spare tire and jack in case of an emergency.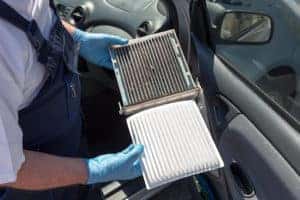 2. Change cabin air filter
When the seasons change, so should your cabin air filter. The air filter in your HVAC system plays a critical role in your vehicle's performance, as well as indoor air quality. Whether it's winter or summer, changing the air filter regularly is a vital part of vehicle maintenance. 
When the cabin air filter is clogged, it restricts the airflow to the windshield. This lengthens the amount of time it takes to defrost and can lead to decreased visibility while driving. Additionally, not changing the cabin air filter also makes the HVAC work harder, causing the motor to burn up. For people with allergies or breathing problems, a new cabin air filter can help reduce the number of pollutants in your cabin.
3. Check your battery
Cold weather slows down everything, including your car battery. In fact, at freezing temperatures, a car battery can lose up to 60% of its strength. When your battery is fully charged, it won't freeze until about -76°F, while a fully discharged battery could start freezing around 32°F. 
Is your vehicle's battery winter ready? Let one of our technicians check. Schedule a service here.
4. Replace windshield wipers
You'll want to make sure your vehicle is properly equipped to handle rain, sleet, snow, and ice. 
If your wiper blades are old, replace them. The summer months may have dried and cracked the blades, which can significantly affect their usefulness. Be sure to have windshield washer solvent and an ice scraper in the car too.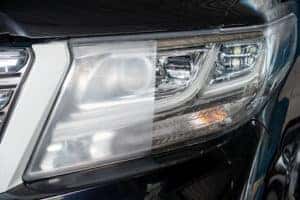 5. Check your headlights
During the winter, the sun sets earlier, meaning it's likely you'll spend more time commuting while it's dark. Rain, snow, and fog also make it harder to see and make it harder for other drivers to see you. 
If your headlights are foggy or yellow, it's vital that you clean up any buildup on the lenses. Oxidized plastic can reduce your headlights illumination by 75%, and in the winter where it's harder to see – you'll want to make sure your headlights provide the most illumination possible. Replace any dim or damaged bulbs immediately.
6. Make sure your brakes are in good condition
Worn brakes can be extremely dangerous in the winter. When you're driving on slick roads, you want to ensure your vehicle's brakes are working in pristine condition. Signs your brakes are worn include loud metallic sounds, vibration, and squealing sounds. If you've noticed they are not performing at their best, be sure to bring them into a dealership service department for a replacement. 
7. Have your antifreeze checked 
Antifreeze, or engine coolant, helps regulate your engine during extreme temperatures. As weather changes from hot to cold, coolant is pumped throughout the engine block to maintain an even operating temperature. It also protects your engine from corrosion and prevents rust from building up. Before the winter, be sure to check under the hood to see if your vehicle has enough coolant.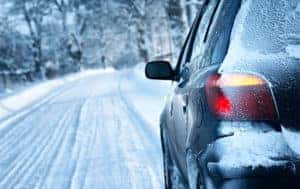 8. Test your heater
It's a good idea to test if your heater is working properly before you need it. If you notice reduced airflow, any pungent smells, or slow heating time, be sure to bring it into the service department for a check-up. 
9. Protect your exterior
Wash away the dirt from summer offroading and protect your paint job from sleet and road salt that can rust away your paint. Salt speeds up the rusting process, which eats away at any exposed surfaces, including your car's body and components. To protect your exterior from harsh winter weather, be sure to wash your car regularly and apply protective wax. If possible, park off the street or use a car cover when parking outside. 
10. Keep an emergency kit in the car
Emergencies can happen to anyone. It's best to prepare for the worst and keep an emergency kit inside your car at all times. Nowadays, you can even find prepared emergency kits online. If you plan on making one yourself, we recommended keeping these items on hand:
First aid kit

Blankets, mittens, socks

Ice scraper

Flashlight with batteries

Jumper cables

Bottled water

Multi-tool (such as a Leatherman multi-tool or a Swiss Army knife)

Windshield cleaner
With these winter car maintenance tips, you'll be able to keep your vehicle running smoothly throughout the holiday season. If you're needing help with any of these items, our service team is happy to assist. Schedule a service online, or contact us for more information.