Nissan Reveals All-New 2023 Nissan Z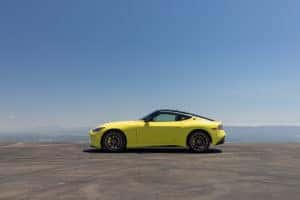 The all-new 2023 Nissan Z has officially debuted. Going on 50-plus years strong, the iconic sports car now enters its seventh generation. The Z, which drops its numerical prefix for the first time, comes as a token of the spirit and heritage of the nameplate's long tenure. 
The Nissan Z will be available nationwide in spring 2022. Here's what drivers can expect on performance, specs, safety features, and more.  
Nissan Z Overview
First introduced to the U.S. in 1969, the Datsun 240Z sparked a revolution in the automotive industry. Since then, the nameplate has gained global recognition for its reliability, speed, and unmatched value. Now simply called the "Z," the redesigned vehicle amps up its features, offering more power and capabilities than ever before. 
Most impressively is the Z's new twin-turbo V6 engine. It produces a powerful 400-horsepower and 350 lb-ft of torque. Compared to its last model, that is a 30 percent increase in torque and an additional 68 horsepower. The engine, which is designed to deliver a rapid, yet smooth response, also has a 15 percent improvement in acceleration. 
The Z, however, is more than just an exhilarating ride. It's built to be one with the driver for all types of journeys. Inside, the cabin features a 9.0-inch display, leather-appointment sport seats, and an 8-speaker Bose audio system. 
The 2023 Z will be available in Sport and Performance grades. Additionally, the Performance models will also have a special "Proto Spec" option, which is limited to only 240 units. Pricing for the Z is expected to start around $40,000, and it will go on sale in early 2022.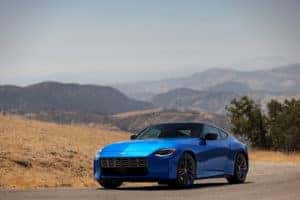 Nissan Z Exterior: Past Meets Future
The 2023 Nissan Z sports a sleek exterior that pays homage to its lineage. Inspired by the brand's "tradition with modern technology" design language, the new Z travels between decades, pulling highlights from previous generations. Most noticeably is the vehicle's long hood and short deck, which displays the classic Z silhouette. This, combined with the upgraded elements, gives the Z a retro-meets-futuristic feel. 
From the side, it's clear to see the link between the first Z and the newest model. Its roofline flows from the nose to the squared-off rear creating a distinctive first-generation feel. Similarly, the sports car also pulls from the Japan market-only 240 ZG with its two half-circle LED headlights. In the back, combination lamps are reminiscent of the 1990s 300ZX. Additionally, rear and front spoilers work together to create advanced aerodynamics. 
The Z is available in three solid colors; Gun Metallic, Black Diamond Metallic, and Rosewood Metallic. In addition, the vehicle will be offered in six two-tone exterior options, each featuring a black roof; Brilliant Silver, Boulder Gray, new Seiran Blue, new Ikazuchi Yellow, Passion Red TriCoat, and Everest White Pearl TriCoat.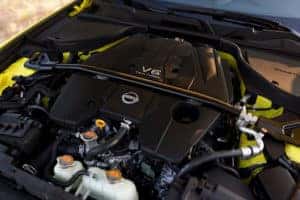 A Thrilling Drivetrain
Under the hood, the Z is just as thrilling as it looks. Powered by a twin-turbo VG engine, the Z is paired with a standard 6-speed manual transmission for dynamic driving. The close-ratio transmission also includes a high-performance EXEDY clutch, making gliding into each gear seamless. The powertrain is further improved with new turbo speed sensors to fully maximize the capabilities of the engine. 
On Z Performance models, the manual transmission includes an advanced launch assist control. This system helps deliver smooth acceleration from a stopped position, and it is a first for any rear-wheel-drive Nissan vehicle. Along with this, they include a carbon-fiber composite drive shaft, with SynchroRev Match® added to 6MT Performance models.
If you're looking for an automatic, don't fret. The Z also comes with a quick-response 9-speed automatic transmission option. Because of its wide gear ratio spread, it's able to deliver on-the-fly acceleration. This satisfying engagement is the exact thing that's helped push the Z to be one of the world's most recognizable vehicles. 
For automatic transmission models, two drive modes are offered; Standard and Sport. When commuting or driving on long highways, Standard mode is recommended. To unlock the Z's full performance potential, simply shift into Sport mode and watch it go. 
Lastly, the Z improves driving and handling with new updates to cooling, suspension, and steering. Nissan has also fine-tuned the body rigidity, added wider front tires, and an electronic power steering with rack assist. 

Retro-inspired with Modern Technology
Like its exterior, the Z's interior blends modern technology with vintage Z touches. Drawing inspiration from previous models, the new Z features three analog pod gauges and climate control switches near the shifter. High-tech driving assist features and technology give the vehicle a futuristic feel, while racing-inspired elements bring it back to its roots. 
Like other Nissan cars, the Z includes standard safety features such as Automatic Emergency Braking with Pedestrian Detection, Blind Spot Warning, Lane Departure Warning, Rear Cross Traffic Alert, High Beam Assist, and Intelligent Forward Collision Warning.
Other safety and convenience features include:
Bluetooth Connect with Voice Recognition 

Intelligent Cruise Control (Full Speed Range)

Nissan Intelligent Key® with Push Button Ignition

Front and rear parking sensors

Automatic Temperature Control

Standard 8.0-inch display audio touchscreen with 6-speaker audio system

Available NissanConnect® with WiFi

Available leather-appointed seating surfaces with synthetic suede inserts (Performance)

Heated seats (Performance)

Available 9.0-inch touchscreen with navigation (Performance)

Available Bose® audio system with 8 speakers (Performance)

Available Active Noise Cancellation (Performance)

Available Active Sound Enhancement (Performance)
When will the 2023 Nissan Z go on sale? 
The 2023 Z is expected to go on sale in spring 2022. To stay up to date on the latest Nissan news, follow United Nissan Reno on Facebook and Instagram. You can also shop our current selection of new and used vehicles online.